In October 2016, a new, exciting opportunity was presented to CCP students: the Chaminade Title Boxing Club. Organized by Dr. Pretila, this club provides an experience unlike any other. On Tuesdays and Fridays, students head to the Creve Coeur Title Boxing gym to work out. Although the sessions do not involve sparring, they are some of the most intense workouts available to students.
Over the course of an hour, students go through a full boxer's workout.  This workout puts students through the gauntlet, helping them develop physically and mentally. If you need exercise and are willing to put in the work, the Chaminade Title Boxing Club is for you.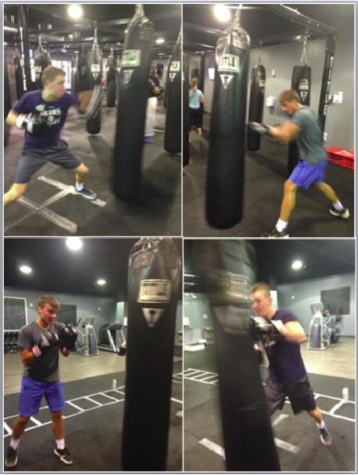 Each session consists of a 60 minute workout, which is divided into three sections. The first section is a 15 minute warmup, which involves boxer's exercises such as push-ups, lunges, and burpees. The second, most challenging, section, consists of 30 minutes of boxing. This section is divided into 3 minute rounds of heavy bag and focus mitt work, followed by 1 minute "active rest" periods. The final section is composed of 15 minutes of abdominal work.
These sessions are meant to challenge even experienced boxers, and for new members of the Boxing Club it can be difficult to keep up. However, they improve with each session. As Junior Luke Nikodem puts it, "I really feel that my skills have improved. Just like everything else, the more training we do the better we seem to get."
Dr. Pretila was no stranger to Title Boxing when he started the club. As he puts it, "I have been doing Title Boxing for about the last five years and it has been one of the toughest, most satisfying workouts I have ever been involved in!" He praised the way the program "marries select elements of MMA training (e.g., heavy bag/focus mitt work) with the safety record that comes with aerobic kickboxing (no sparring)". This positive experience was what led him to bring Title Boxing to Chaminade. Through this club, Dr. Pretila is looking to "share this lifestyle of fitness with the Chaminade family". With a strong turnout through the club's first few months, he is well on his way to achieving that goal.
In their first few months of attendance, club members have gotten a lot out of the club. According to Dr. Pretila, the club "provides students with a unique avenue to develop physical fitness along with self-confidence. It also offers the student athletes a workout that can supplement their fitness training during their off-season." Luke Nikodem agrees. In his words, "I have gained a lot from the experience so far. My mental and physical stamina has definitely improved."
The opportunity to develop both physically and mentally sets the club apart from many of the other clubs available at Chaminade. Whether you are looking to improve your fitness for a sport or for a better lifestyle, you can certainly meet your goals at the Title Boxing Club.
While the Title Boxing Club has seen success so far, it has plenty of room to grow. As Dr. Pretila says, "I've been happy with the initial wave of turnout but would love to see more students come out and try out the club". Since the first class is free, there is nothing stopping more members from trying Title Boxing.
Meetings are on Tuesdays and Fridays at 4 pm, at the Creve Coeur Title Boxing Gym. If you are interested at all, contact Dr. Pretila at [email protected] for more information. Who knows, it may just change your life.