The Class of 2021: A Reflection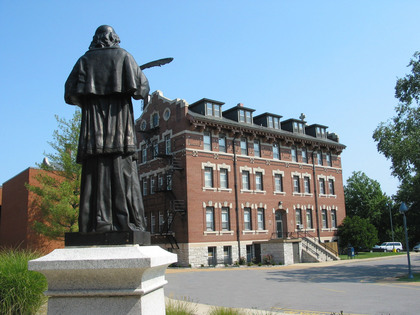 There is an inscription when you walk in the foyer of Chaminade Hall that reads, "Here Boys Come To Be Made Men". When I started my journey back in the summer of 2013, I recall looking up and seeing these words. I didn't think a whole lot about it at the time. Fast forward four years and the Class of 2021 has helped deepen my understanding of these words written on the wall.
But why this class in particular? Well, this was my first recruiting class and I have followed them on their Esto Vir journey since before they were Chaminade students. I came to Chaminade like so many of them, a little nervous, curious, hopeful and eager to begin my own journey – immersing myself into a culture that was for the most part foreign to me. A question I get asked a lot when I tour families through campus is, "So, are you an alumnus of Chaminade?" The answer is always, "No" and will always be "No". I found my way to Chaminade from a different route and what a journey it has been ever since August of 2013, which brings me back to the class of 2021.
Most students came to explore the world of Chaminade as 5th graders. My job was to present a world that, at the time, was unknown and full of potential. Now seeing them as 8th graders, it feels like yesterday they were sitting in the Admissions Office after a day of shadowing, discussing the cool theater in the Skip, what sports and clubs they wanted to get involved in, the snake in Mr. Kelly's Science class they held, or the excitement they shared when experiencing their first Red Devil Bowl for lunch. I will always remember the confused look on Mark Jackson's face when he learned that Chaminade had no female students, after six hours of being here. I remember a very energetic, Curt Hastie in my office, a then quiet and nervous, Henry Venker and an outgoing, Cooper Benedict, all full of excitement.
This class will always be a special class for me because of all the experiences I have been able to share with them. Almost every day, I see these students in some capacity; a quick walk down their hallway gives a quick glimpse of all the personalities. Running into a cheery Adam Cunningham, a smiley Jack Guyot whose personality is so much larger than his stature, a stoic Sean Cavanaugh, an always animated Akash Nandakumar, a laughing Pedro Suarez-Solar, a mischievous Mark Scott, a focused Sam Strauss, a polite Quin Rizer or a humble Karthik Kanumuary who is ready with a question about the local sports team, "Did you see that Blues game last night?" will always be the highlight of my day.
But aside from the day-to-day interactions with them, I will never forget the twenty-six hour bus ride to Wyoming's Grand Tetons National Park in the spring of 2015 for their 6th grade class trip. I hope they shared that same excitement that I had when the snowcapped mountains came into view. I will never forget the pancakes bigger than your head at the Cowboy Café and the evenings, performing card tricks and fooling them every time. How could I forget Jackson Fabick and Riley Haglers' determination to summit the Black Tail Butte, in spite of illness? I will never forget how for many of them it was their first trip away from home without their parents. I will remember their initial protesting because of the no cell phone and electronic devices policy only to come to find that playing a pickup game of basketball or football outside was so much more fun.
I have had the privilege to coach many of these students in one sport or another. My first experience was coaching 7th grade soccer. I will remember a last minute game-winning-goal by Josh Stehle against a very tough John Burrough's team to end our season on a high note. This still remains as one of my favorite victories as a coach. I will not forget the two great years I had the privilege to coach many of them in lacrosse. Seeing players like Charlie Reed, Patrick Divis, Jake Gisi, and Ben Farrell improve their game immensely over a year's time is a testament to their drive. Seeing how newcomers to the class and team, Ryan Jenks and Jake Feise were welcomed into the fold is telling of the team's comradery. Witnessing Will Beldner save a shot like clockwork only to find a speedy Miles Dressel on a fast break, passing to Drew Altic for a goal, are things you can't coach, but rather just sit back and enjoy. Seeing the sportsmanship of Jude Giessman as he takes hit after hit from opponents and never get flustered is indeed very telling of his character and more rewarding than wins.
Most recently, I will recall the Washington D.C. trip with bus #2. What a trip it turned out to be. There was the Lincoln Memorial, the Smithsonian's, George Washington's estate and the White House, but I will think of the students more. Listening to the soothing sounds of Chris Sandifer's harmonica, discussing movies with Louis Prevost, practicing my Spanish with Alfonso Bolio, conversing about our best fish caught with Cody Wilson or subtle fist bumps from the always calm and collected, Jack Carrow signaling to me that he was having a good time was an essential part of the journey.
When I look back on this class, I am indeed blessed to have witnessed their growth into young men and examples of what Esto Vir is all about. Come the fall, the class will look quite different. There will be over 55 new students joining them. The new students are comprised of some of the sharpest students from their respective grade schools and across the globe. There is an abundance of talent as the group is comprised of actors, athletes, musicians, singers, Boy Scouts, artists and so much more that is yet to be discovered. There are questions that I have that only time will tell – Who will be raising the Marianist House Cup as a House Captain in four years? Who will be leading the Red Army in chants against MCC foes? Who will be those quiet leaders, tutoring younger middle school students? Who is going to join me in an outing with the Fishing Club? So many questions and expectations I have for each of them, but I am confident they will exceed them.
So, as I think about "Here Boys Come To Be Made Men", the Class of 2021 is well on their way. I hope and pray that with the next four years, Chaminade will help them get there. There will be people along the way to help guide them such as fellow classmates, older students, teammates, teachers, coaches, and staff. It will not be easy and there will be struggles. There will be days that don't go as planned, but it is how they respond and overcome that will be a true test of their character. I will see them back in the fall, most likely a little taller, more mature, and energized for a new adventure in high school. Then in another four years I plan to watch carefully as they make their way across the stage at graduation thinking once again about the words in Chaminade Hall, "Here Boys Come To Be Made Men". It's not just a writing on the wall.
Esto Vir Class of 2021!
Mr. C