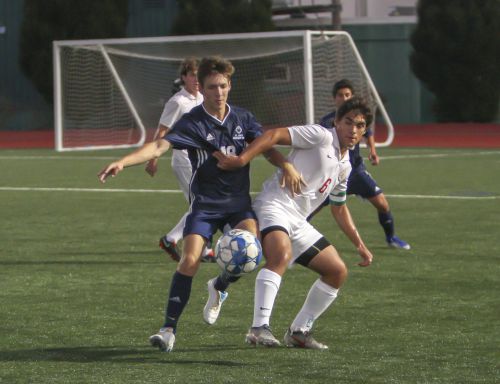 SLUH—The Chaminade Red Devil soccer team won their season opener on the road vs. SLUH last Wednesday, setting the tone for what promises to be a great season. Junior Sean Green scored a beautiful goal in the second half, and the Chaminade defense gave the Billikens no chance for an equalizer as it was the Devils celebrating on foreign turf.
Although perhaps not reflected on the scoreboard, this game was all Red Devils. Chaminade visibly dominated the possession for most of the game, behind their balanced 3-5-2 formation. Despite going with the 3 defender look, Chaminade Senior Adam Kuntz played well in his Defensive Midfielder role to provide both a backbone of support for the defense, as well as an offensive asset, setting up the teams only goal with some fancy footwork.
The game's only goal was scored about halfway through the second half. A fancy roulette spin move from Adam Kuntz to split both defenders halfway through SLUH's end led to a feed to striker Arthur DeCampos, who laid the ball off to Green in the box to slot it in the top right corner to beat an impressive SLUH keeper in Peter Hermann. And this one goal proved all that Chaminade needed complete the win.
Chaminade goalie Alex Ganninger was impressive in his varsity debut, stopping anything and everything the Billiken forwards threw at him. But it really was the defensive effort of the Red Devils to keep the ball in the opposing end that lead them over the finish line with the win. Kuntz won many clinical headers at the half line, and starting Center Backs Evan Brown (Junior), Quinn Braekel (Junior), and Vincent Laury (Senior) held it down in the back with some clutch tackles to keep the SLUH chances to a minimum.
This is a great start for a Chaminade team who looks to be a force in the MCC for the year to come. Beating SLUH on the road sets the tone for this team who will most likely face the Billikens again at some point in the district playoffs.
When everything clicks for this Chaminade team, they are a force to be reckoned with. Star midfielder and Chaminade Junior, Joe Hipskind went down during the first half with an apparent groin injury. He has been clinical to the offensive play of this Chaminade team, so the Red Devils will be wishing for a speedy recovering from Hipskind. Chaminade also defeated Francis Howell North the following day in their first home game, and first non-conference game.
The Red Devils will resume MCC play at home on Saturday, September 7th against a dangerous CBC team.  They will look to improve to 2-0 in MCC matches, and 3-0 overall. Devoted Devils fans should look for Junior goal keeping prodigy Jack Carrow to see some time in net for the upcoming game vs. CBC, to see if he can withstand the pressure of this massive MCC showdown.