On October 30th most high school guys at Chaminade were doing homework, or complaining that they did not have the day after Halloween off, but while they were wasting their breath, a select few Student-Athletes were making school history by hosting the First Annual Chaminade Falltimate Tournament.
This tournament was the first of its kind in the St. Louis Area on the high school level. In an attempt to reestablish itself as a pillar in the St. Louis High School Ultimate Frisbee community, a young and enthusiastic Chaminade team practiced all summer, and nearly every weekend in the fall season.
Years ago, Chaminade's Ultimate team was considered among the best in the area. However, after the disappointing outcomes of the last two seasons (0-8 in 2015 and 1-6 in 2016) it has become evident that the gentlemen of Chaminade will need to work hard to regain the respect of their opponents. The fall tournament was an excellent way to showcase this hard work and compete against 6 of the strongest high school programs in the St. Louis area.
The boys of Chaminade showed well, ushering in many new faces such as Drew Seibel and Zack Gronowski, who were led by seasoned veterans such as Ben Reimler and Benny Kardesch. The final results of the tournament placed a much more experienced team of Edwardsville High School in first place. Edwardsville defeated one of St. Louis' traditional powerhouse teams, Marquette, in the championship game by a score of 11-6.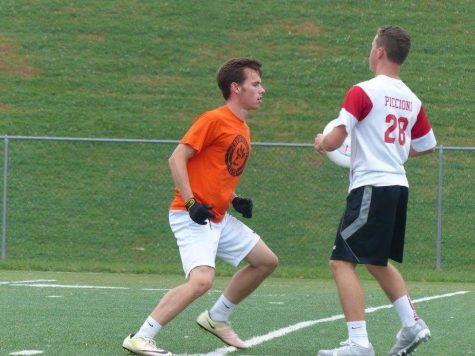 Sophomore Captain Christian Piccioni (CCP) being guarded by Senior Captain Matt Nuoffer (Edwardsville)
***
Ultimate Frisbee was born of humble beginnings when Joel Silver of Columbia High School in Maplewood, New Jersey first introduced the concept in 1968. In less than 60 years, the game has developed briskly in different communities all across the world. Ultimate is currently played by over 5 million people on 6 different continents. Both men and women compete on the youth, high school, college, club, and more recently the professional levels (Only Men).
Ultimate is played on a field that is 70 yards long and 40 yards wide with two 25 yard end zones (In total 130 yards long). Each team has seven players on the field at once. Play begins when the defense team "pulls" the disc to the offense, similar to a kick-off in football. Players attempt to advance the disc up the field by passing to one another until they reach the opposing team's end zone and score a goal which is worth one point.
Players are not allowed to run with the disc and they are only allowed 10 seconds to throw. The resulting product of these rules is an unconventional, original game that people are learning to love; people have especially been learning to love the game here in our city of St. Louis.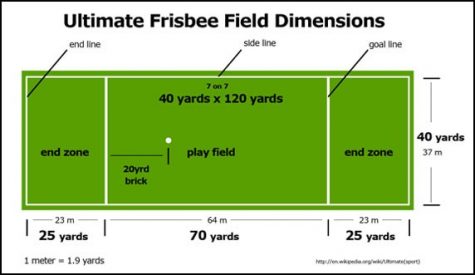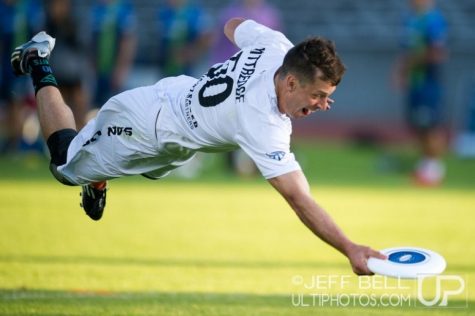 Professional Ultimate Frisbee Player Beau Kittredge lays out to make a grab
***
The first organized high school level ultimate in St. Louis began in 2004, when the St. Louis Ultimate Association began a league that is now known as SLUJ. The league that began with only six teams, has now grown to over twenty teams representing schools from all over the St. Louis area. Before SLUJ, Parkway Central Coach and Chemistry Teacher, Mr. Gunasingham, recalls playing an unorganized brand of the sport in high school at Parkway South along with his friends from Chaminade and CBC. When I asked him about the growing popularity of the sport and his own team, he replied, "Our team is friends first and teammates second. I think because they are able to be fairly competitive about the sport without getting too intense."
Mr. G's examples illuminate one of the best parts of Ultimate, which is that for most kids it is a game they play for fun. In the largely competitive domains of larger sports, it is all about what club team an athlete plays for, how many points/goals they score, or if they play varsity etc. This culture, which can sometimes turn hostile and make sports no longer fun, has turned many people away from sports they once loved. Standout Senior Captain Matt Nuoffer at Edwardsville quit basketball and chose to pursue Ultimate. He told me, "Once you start playing, most people love it, and with all the drama in regular sports, it's refreshing to play one that is just about competition."
His testimony runs parallel to that of Chaminade Sophomore Benny Kardesch, who is actually responsible for introducing many of the players on the current team to the sport, including myself. Benny said, "My brother Nate, former CCP Ultimate superstar, taught me to throw the disc and ever since I fell in love with the game. I value the relationships I have formed with my teammates and I cannot wait for the next three seasons at Chaminade."
Chaminade's team is growing and changing each and every season. With its new flock of committed athletes and one of the all-time great coaches in Steve Murphy, Chaminade Ultimate is ready to take on any challenges it may face in the upcoming season.