Chaminade Hockey Playoff Preview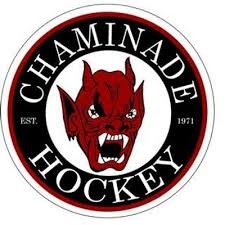 Coming off a recent 5-1 comeback win against Vianney in the Marianist Cup, Chaminade's varsity hockey team is heading into playoffs with high hopes. In the Challenge Cup of Midstates High School Hockey, the top 12 teams in the entire league compete for a state championship. For Chaminade, winning the title, which has been won by CBC in 4 of the last 5 years, would be a first.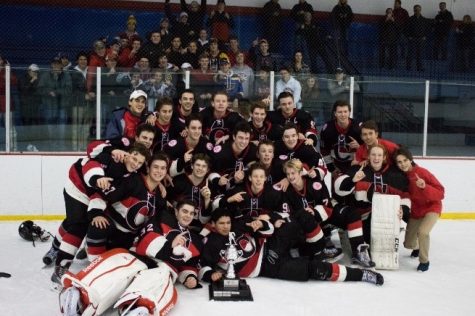 Chaminade after winning the Marianist Cup over Vianney last month.
Teams in the Challenge Cup receive a "seed" from 1-12, with 1 being the best and 12 being the worst. These seeds are based on regular season performance and difficulty of schedule. Chaminade has locked up the 6-seed in this year's Challenge Cup, as opposed to a much lower seed in the last two years. Ending the regular season with a record of 8-11-2, Chaminade had key wins against Kirkwood and Vianney. Led by senior captains Justin Debus and Jack Greene and points leaders Alex Stewart (18 points), Daniel Howard (15), and Ben Jackson (13), The Red Devils ended the season with a rank of 6 out of 35 teams in the entire league, contributing to their high rank entering playoffs. Freshman Michael Shanahan and Ryan Yemm have also been a huge part of the team, combining for 13 points on the season.
The Red Devils will play Fort Zumwalt West this Thursday (2/2) at Queeny Ice Rink, Kirkwood on Monday (2/6), and CBC on the following day. *Updates of the results of each game will provided on this article after each game.
UPDATE: Chaminade beat Fort Zumwalt West last Thursday by a score of 4-2. With the help of 3 goals from Sophomore Vincent Servizzi, the Red Devils came back from an early Zumwalt goal to win the game.
Chaminade also played Kirkwood High School the following Monday. An early goal by the Pioneers propelled them to a 3-0 win, putting Chaminade in a position of "do or die" against Christian Brothers College on tonight. CBC recovered from a tough loss to Edwardsville over the weekend to beat Wentzville Timberland 7-5. Now, Chaminade has to either win or tie CBC tonight (8:45 at Webster Ice Arena) in order to advance to the Midstates Hockey quarterfinals.