2017-2018 NFL Awards Predictions
Most Valuable Player: Tom Brady
Tom Brady has been a dominate player in the NFL ever since he got his big chance in the 2001 NFL season. Even in his 40-year-old season, Brady continues to put up MONSTER numbers. Brady threw for a league leading 4,577 passing yards and finished in the top five in total quarterback rating, completion percentage, yards per attempt, passing touchdowns, and passer rating. Brady continued his dominance throughout the 2017-2018 season without his most targeted player in 2016-2017, Julian Edelman.
Brady also led his team to their ninth straight playoff appearance as the number one seed in the American Football Conference (AFC). Brady also won his 15th divisional title this year which is the most by any quarterback in the history of the NFL. With his win on Sunday, January 21st, against the Jacksonville Jaguars, Tom Brady will make his eighth career Super Bowl appearance and try to win his sixth. The eight Super Bowl appearances to Brady's name is an NFL record and his five Super Bowl wins and maybe six this year is also an NFL record.
Offensive Player of the Year: Todd Gurley
When Todd Gurley got his start in the 2015-2016 NFL season, many compared him to Adrian Peterson because of his explosiveness and ability to break tackles. His rookie-season stats were insane for a rookie. He rushed for over 1,100 yards and over four yards per carry. In his disappointing sophomore season, he rushed for over 200 yards less and over a yard less per carry. Gurley wanted to prove the entire football world that his rookie year was no fluke and was ready for the 2017-2018 NFL season.
Gurley rushed for an incredible thirteen touchdowns and also caught six touchdowns. His thirteen rushing touchdowns is the most by a running back this season and his six receiving touchdowns were tied for the most by a running back this year as well. Gurley also acquired the most yards from scrimmage this year and barely missed out on a rushing title. Kareem Hunt rushed for twenty-two more yards than Gurley and Todd did not even play in the last game of the year against the San Francisco 49ers.
Defensive Player of the Year: Calais Campbell
The Defensive Player of the Year Award is normally an extremely close battle between two or three players. This year was no exception with Calais Campbell, Aaron Donald, and Cameron Jordan as the three front-runners. Cameron Jordan finished the year with thirteen sacks which was tied for the fourth-most in the National Football League. Calais Campbell finished with 14.5 sacks which was tied for the second-most this season and Aaron Donald finished with eleven sacks.
Calais Campbell turned the Jacksonville Jaguars defense into an elite powerhouse in the NFL this year. The Jaguars allowed the second-fewest yards per game this year and also allowed the fewest amount of passing yards per game. This pick-up by the Jags during the offseason proved to be a tremendous pick-up. Campbell finished the year with a career high in sacks (14.5) and a career high in forced fumbles (three). Campbell also picked up his second touchdown of his brilliant career. Campbell's excellence led the Jaguars and their defense all the way to the Conference Championship game against the New England Patriots and Tom Brady.
Offensive Rookie of the Year: Alvin Kamara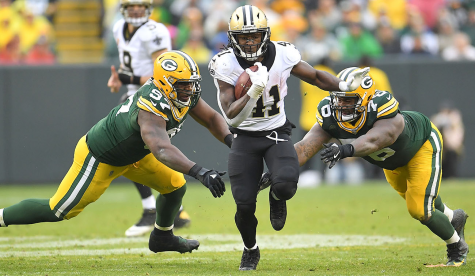 Alvin Kamara and Kareem Hunt both had incredible rookie-seasons this year. Alvin Kamara and Kareem Hunt both turned their offenses into elite forces throughout the entirety of the season. While Hunt may have led the National Football League in rushing yards, Kamara was way more efficient and scored more touchdowns. Alvin Kamara had more than 120 less touches than Kareem Hunt, but he rushed for only 200 yards less than Hunt. Kamara also rushed and received for more touchdowns than Hunt. While Hunt only had twelve touchdowns for the season, Kamara had thirteen. Kamara also received for more yards and led the league in yards per carry with an astonishing 6.1 yards to the touch.
Kamara and Hunt's excellent rookie performances throughout the regular season propelled each of their teams to the playoffs. While Kamara and the Saints won their first playoff game, Hunt and the Chiefs did not score one point in the second half and lost to the Titans. Kareem Hunt only had eleven carries and rushed for 42 yards. He did score a touchdown though. Kamara scored a touchdown as well but only carried the ball ten times for 23 yards. In my opinion, Kamara's efficiency and versatility beats out Hunt's extremely forceful ground game.
Defensive Rookie of the Year: Marshon Lattimore
Marshon Lattimore was selected eleventh overall out of Ohio State University by the New Orleans Saints. He was the first cornerback selected in the 2017 NFL draft. Lattimore definitely did not disappoint in the 2017-2018 NFL season. He played with a defense that had a defensive player of the year candidate already on their defensive line and Lattimore added much needed support to the Saints secondary.
In 2016-2017, the New Orleans Saints had the worst defense against the pass in the entire NFL. In the 2017-2018 season, after Marshon Lattimore was added into the Saints secondary, their pass defense jumped from 32nd in league to 15th in the league. While 15th in the NFL is not all that great, jumping from 32nd to 15th is an incredible jump. Lattimore finished the year with five interceptions for 85 yards and a touchdown. He also forced and recovered a fumble. Marshon Lattimore tallied an outstanding eighteen pass deflections and 43 tackles. Without a doubt the best defensive rookie this year.
Coach of the Year: Sean McVay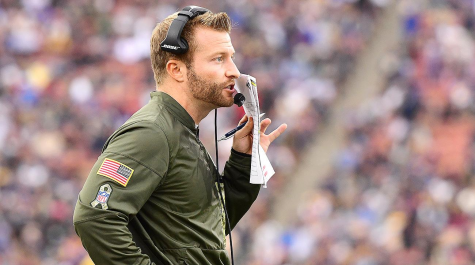 In the 2016-2017 NFL season, the Los Angeles Rams were arguably the worst team in football despite all their talent such as Todd Gurley and Jared Goff. They ranked worst in the league in total yards per game and second worst in passing yards per game and rushing yards per game. On average, they scored only fourteen points a game. The Rams also lost twelve games last year while only winning four. They came in third place in the NFC West division. After Jeff Fischer, the Rams previous head coach, was fired, Sean McVay was hired. McVay was hired as a head coach at only thirty years old which makes him the youngest head coach in the history of the National Football League. Many people were skeptical of this decision by the Rams and they had their doubts.
McVay proved everybody wrong and led his team to an eleven-win season and an NFC West division title. After McVay took control of the offense and Jared Goff, the Rams looked complete. The Los Angeles Rams averaged more points a game, 29.9, than any other team in the NFL. They also jumped 21 spots all the way to tenth in passing yards per game and all they to eight in rushing yards per game. The Rams offense in 2017-2018 was an unstoppable wrecking force and Sean McVay deserves a lot or most of the credit for that. The Rams went from worst in points scored to first in points scored while jumping over twenty ranks in total yards per game. This is unheard of which is why Coach McVay deserves this award more than any other coach in the NFL.