Strong Second Half Propels CCP to Season Sweep of Vianney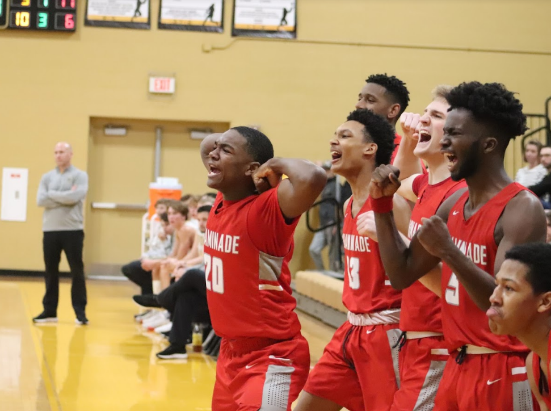 Coming out of halftime, Chaminade was up 35-25 and the mood was intense. It was crystal clear that the Red Devils needed to come out of the break firing on all cylinders if they wanted to maintain this lead.  Fortunately they answered the call.
A 22 point third quarter created plenty of breathing room between the Golden Griffins and CCP, setting up a much needed victory for the Red Devils.
For Tarris Reed, it was hard to get in a rhythm, as it seemed like the referees blew a quick whistle anytime the 6'8 center used an aggressive post move to create separation. Anticipating the delicate calls, Reed was able to use soft jumpers and little hook shots as well sinking three free throws to finish the game with thirteen points. He did, however, have some trouble shooting from distance as he missed a three and a long two.
The Devils also received a strong contribution from Luke Kasubke as the senior guard knocked down two threes on his way to finish with thirteen points. He also drove to the rim and finished at the basket twice — one of those times being a booming transition dunk — and made all three of his free throw attempts.
Coming off the bench, Jaden Winfield had a solid night and he ended up playing the majority of the game. Chaminade's junior guard finished with 6 points; however, it was confidence and poise on offense, combined with his hallmark strong defensive play, that made Tuesday's game one of his bests. It can be difficult to tell if a player is playing well based solely on the box score, if he doesn't have a lot of points, but watching Jaden make smart defensive decisions and look for the open man demonstrated his growth in the mental aspect of the game.
Tuesday's game wasn't sexy or high-flying. It wasn't a hallmark game, but the team got the job done, and they will get ready for a huge game at DeSmet on Friday February 7th followed by a great opportunity Saturday February 8th at the O'Fallon Shootout to defeat the host team. Saturday's game will give the Devils the chance to not only show their skill to a packed house at the O'Fallon Shootout, but also play in a raucous environment that will resemble intense playoff match-ups down the line.
Overall Record: 13-4
MCC: 4-2
Next Game: Friday February 7th, 6:00 at DeSmet