Top 5 Kanye West Albums
Kanye West is a controversial name that carries plenty of baggage but one thing that is undeniable is his contributions to music in the 21st Century. The Chicago native has his toes dipped in multiple artistic ponds: clothing design, shoe design, and producing, but none of those ventures have been as successful as his own rapping and music career. According to billboard.com, West has 8 no. 1 hit albums – Late Registration, Graduation, 808s & Heartbreaks, Watch the Throne, My Beautiful Dark Twisted Fantasy, Yeezus, Ye, and his latest album, Jesus is King. Also, Kanye's debut album, The College Dropout, peaked at 2 on the charts. So, here is my opinion of West's top 5 albums.
5. Yeesus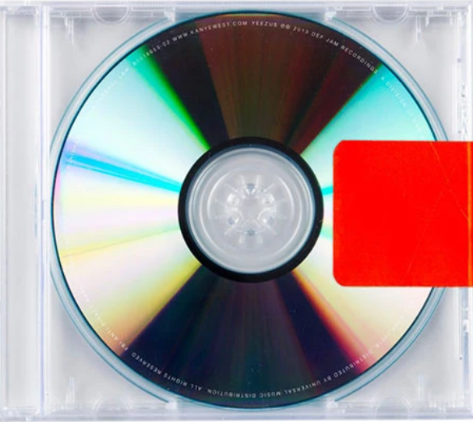 Kanye West's sixth studio album, Yeezus, came out on June 18th, 2013 and sold 327,000 copies in the first week according to musictimes.com. The album went platinum, "moved over one million units," and debuted at the no. 1 spot on the top 200 charts.
 Yeezus's sound was like no other at the time. Lacking the grand gospel production and numerous features generally associated with a West album, Yeezus has the sound of a robotic and chilling horror film. While the style of the music didn't really catch on, it thrives in a way only Kanye could produce.
Most noteworthy/successful songs:
Black Skinhead
Blood on the leaves
Personal Favorite: Bound 2
On the final song of the album, West raps about his troublesome relationship with his partner at the time. He acknowledges that his relationship has come a long way but also ponders if he and his partner will eventually get married or not. However, the strength of the song isn't in its lyrics or storytelling instead in its production. While the majority of the techno rap album lacks West's iconic gospel-type production, 'Bound 2' mixes his signature style while keeping the overall industrial theme of the album to create a powerful blend of both worlds.
Personal least favorite(s):
4. Ye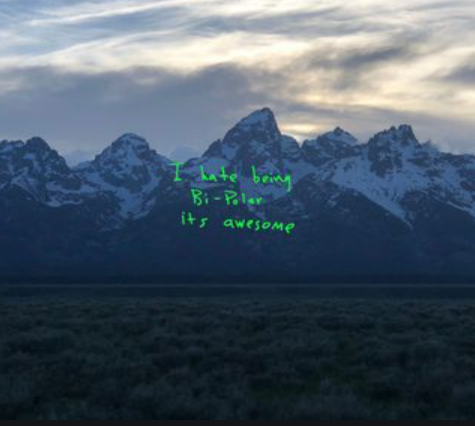 June of 2018 was a big month for the Chicago native as it saw the releases of West's eighth solo album, Ye, and his second collaborative album, Kids see Ghosts. Kanye partnered with rock rapper Kid Cudi in a powerful album that centered around their battles with mental health. However, it was West's solo album revolving around mental health Ye that takes the no. 4 spot on this list. The album cover, a mountain range with the words "I hate being bi-polar its awesome" painted across the skyline, gives the listener a preview of West's mental wellbeing struggles which he raps about through his 24 minute 7 track album. Its more toned downed style is reminiscent of 808s & Heartbreaks while still maintaining its own unique flavor.
Most noteworthy/successful songs:
Ghost Town
Yikes
All mine
Personal favorite song: "Ghost Town"
In the most powerful song of the 7, West uses samples of "Take Me for a Little While" according to billboard.com, to deliver a piece where Kanye dreams of a time in the future where he and his spouse will no longer face public pushback. He reflects on his egotistical nature and admits that he enjoys the spotlight but wants out of it. The famous chorus reflects a sort of numbness that West anxiously attempts to shake off, "I put my hand on a stove to see if I still bleed/but nothing hurts anymore/ I feel kind of free." This struggle of swimming up current to overcome any obstacle resonates but the challenge of mental health makes it much more impactful.
Personal least favorite(s):
Album's legacy:
Initially, the album was not received as well as his early pieces nor his feature heavy album, My Beautiful Dark Twisted Fantasy. The general public wasn't ready for this vulnerable side of West. The normally egotistical, production-heavy, and beat focused nature of his previous work was gone, and Ye was a more stripped down album which still utilized heavy sampling of other artists' work but did not rely on a plethora of features from hip hop icons. Still constructed by West's patented beautiful production, Ye is a self-reflective story more than anything and could very well stand the test of time.
3. 808s and Heartbreak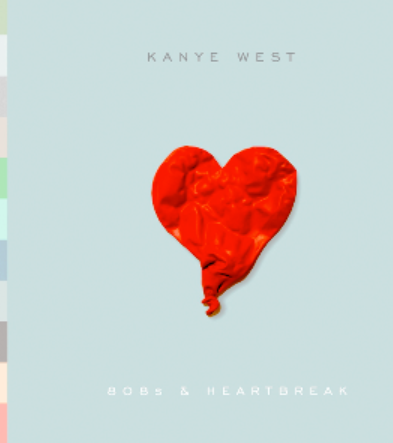 Perhaps West's most influential album, 808s & Heartbreaks opened the door for future artists like Drake to use a similar style utilizing heavy beats and 808s while primarily singing over them instead of rapping. In songs like "Love Lockdown," the listener simply hears piano, the beat of the song, and Kanye singing. West's 4th solo album comes off the heels of the death of his mother resulting in a collection of songs darker and more emotional than anything he had put out up to that point.
Most noteworthy/successful songs:
Heartless
Love Lockdown
Amazing
Welcome to Heartbreak
Personal favorite: Heartless
Absolutely the biggest hit on the album, "Heartless" is much more than radio hype. West's story of heartbreak perfectly exemplified the themes and style of the entire record, as it featured Kanye predominately singing and relying on heavy auto tune. While that concept might sound like nails on a chalk board to most, West utilizes auto tune masterfully to create a hurting sound his regular voice could not capture. Match his singing with a strong beat and a catchy chorus, and you have not only the biggest hit from the album but also its best song.
Personal least favorite(s):
See you in my nightmares
Bad News
Street Lights
Album's legacy:
808s & Heartbreaks marked the end of an era for Kanye, as it was his first record where he began to stray away from the iconic sounds of his first three solo albums and began to try new ideas, rhythms, samples, and beats. Influence from the album can be identified all throughout modern day hip hop and pop music but especially in artists like J. Cole, Khalid, and Drake. One could even make the argument that without the success of 808s & Heartbreaks, those artists never break through to the mainstream. While the quality of songs starts to fade down the stretch, the first seven tracks are as high quality as anything else West has ever released. The record certainty reflects the pain he dealt with after losing his mother and translates well to anyone dealing with loss of their own.
2. Graduation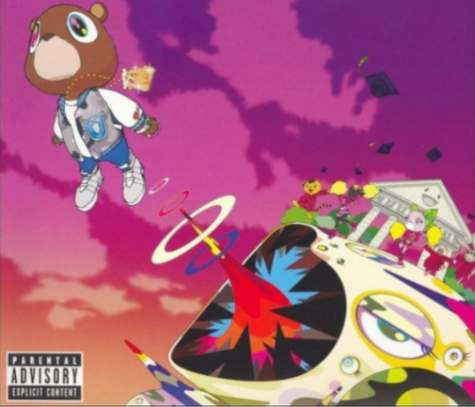 After his first two records saw massive success, Kanye released Graduation in 2007 signifying the triple crown for the Chicago native. The 51-minute 13 song album combined West's soul style with his own take on what a futuristic album should sound like. Those two flavors worked together masterfully, and the result was a debut at the no. 1 spot on the US Billboard 200, over 900,000 sales in the first week, and a double platinum certification, according to RIAA and billboard.com. Simply put, Graduation catapulted Kanye into a new stratosphere the rap artist hadn't yet ascended to.
A large portion of the album is spent with Kanye working through and processing the sudden success he had achieved in a span of four years while also reflecting on his time growing up in Chicago. From tracks like "Stronger" where West raps about his surge in ability to produce music, to the song "homecoming" where he reflects on being a hero to kids growing up in Chicago, Kanye uses Graduation as a platform for celebration.
Most noteworthy/successful songs:
Good Morning
Stronger
Good Life
Barry Bonds
Homecoming
Personal favorite: I Wonder
To many, "Good Life" and "Stronger" are the highlights of the record, but in my opinion "I wonder" is the masterpiece of the album. West combines synthesizers, amplified drum usage, and a fantastic orchestra to pair with a sample of the piece "My Song" by Labi Siffre, this production results in a song that perfectly encapsulates Kanye's style. "I wonder" is able to utilize every musical component that West had made his name off of and provides a perfect background to rap over.
As the lyrics of "My Song" fill the chorus – "And I wonder if you know/What it means, what it means/And I wonder if you know/What it means to find your dreams/And I wonder," West uses the verses to look back on his career. He raps about having a drive, similar to that of a professional athlete, to become a better producer. The versus express Kanye's obsession with producing and tell the story of West climbing up the mountain while the chorus reflects how he feels once he has reached the top. The mirror like storytelling that occurs on "I wonder" makes it the best song on an all-star team album.
Personal least favorite(s):
Album's legacy:
Depending on the listener Graduation really goes one of two ways: an empty party album with no substance, or a celebration of success filled with beautiful production and songs that still hold up today. My position on the album is fairly apparent: I'm a fan. West's ability to sample songs, still include portions of soul, and transition to a "futuristic" sound equates to a stellar album. Since the "futuristic" album is constructed well, the listener is capable of enjoying an album with an admittingly dated sound. It's a mark of a good artist when their work can hold up well past the time when the piece is in style.
1. The Life of Pablo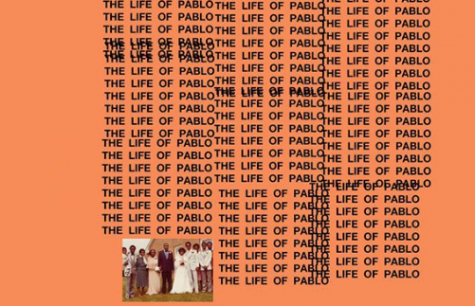 A timeline full of leaks, album name changes, runway shows, SNL performances, and overall drama, the road to The life of Pablo was a bumpy one. Following the completion of his US concert tour in the spring of 2014, rumors began to fill the internet with speculation that a new album was coming. In an interview with Rolling Stones, Kanye confirmed that he had plans to release a new song in June of 2014, and he wanted to follow that up with a complete album drop in the fall of 2014. In hindsight, any fan of West would be skeptical of that timeline knowing how long it takes for Kanye to perfect his albums. At the time however, everyone was just eager for more of his music. Fast forward 11 months from the Rolling Stones article, and the newest album gets announced, So help me God. Since indecision is that word that exemplifies the process of producing this record, it only makes sense that a little over 2 months from when the album was announced it was given a new name, Swish. A sequence of song premieres, shoe designs, an SNL performance, a final name change, and even a brief point in time when West released an incomplete version of the album on Jay Z's platform Tidal, proceeded the legitimate publication of Kanye West's 7th solo studio album: The Life of Pablo.
Most noteworthy/successful songs:
Ultralight Beam
Father Stretch My Hands Pt. 1 & 2
Waves
Real Friends
Wolves
Frank's Track
No More Parties in LA
Personal favorite song: Ultralight Beam
An opening song of an album like no other, "Ultralight Beam" features fellow Chicagoan Chance the Rapper as well as Kelly Price, The-Dream, and a ten-piece choir led by Kirk Franklin. West is back to his gospel roots without being Christian rap. In the first verse of the song, Kanye says, "pray for Paris/Pray for the parents," referencing the terrorist attacks in Paris in 2015 and this sets the tone for a song where West and Company contemplate their relationships with God throughout the track. Following West's first verse, the refrain hits and says, "I'm tryna keep my faith/But I'm looking for more," which exemplifies the struggle Kanye faces throughout the album: while he desires a closeness with God, he must get over the hurdle of his own narcissism. The refrain is followed with verses sang by Kelly Price and then Chance the Rapper. Kanye and the choir comeback in for the chorus and then refrain. And then the song ends with a beautiful outro sang by the choir. It's a messy and conflicting song that opens up a messy and conflicting album. "Ultralight beam's" tug of war between accepting a greater power and self-idolization is the battle Kanye fights throughout the entirety of the album but introduces here.
Personal least favorite(s):
30 Hours
Facts
Siiiiiiiiilver Surffffeeeeer Intermission
Album's legacy:
The Life of Pablo isn't precisely nitpicked to perfection. Instead, its rawness and conflicting messages between songs reflects complexity of humanity. West wants to be humbled, wants to be a follower of Christ, but also wants to be the center of the universe, wants everyone to like him, and needs to be accepted. It is the paradoxical nature of his lyrics that demonstrate struggles everyone has: the desire to be better but the failure to live up to our own expectations. Aside from the substance of his lyrics, Kanye puts on a clinic in production, sampling, features, and beats, creating a grand sound that accompanies his message perfectly. Everything about The Life of Pablo is complicated, it lives in the gray, and that is what makes it no. 1.