Fr. Ralph Resigns as CCP President, Dr. Guidry Announced as Replacement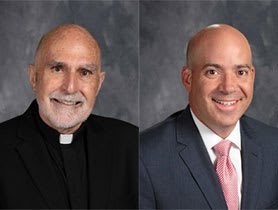 Rev. Father Ralph Siefert, President of Chaminade College Preparatory,
announced that he is resigning in June 2022.
On January 8, 2021, the iconic Father Ralph announced that he would be resigning as President
of Chaminade. Father Ralph has served as the president of Chaminade for over 30 years and the
impact he had on the community and the school is tremendous. Mr. Todd Guidry, the Middle
School principle at Chaminade will be taking over as president of Chaminade starting in June
2022.
Dr. Guidry will have a transition year in the 2021- 2022 school year to learn from Father Ralph and
serve as the Vice President. Guidry's eight years of experience at Chaminade and work as middle
school principle will make the transition seem very smooth and natural. Guidry graduated from
Xavier and received a Bachelor of Arts in Theology as well as a Doctorate in Education from
SLU.
The news of Father Ralph retiring was not shocking because of his age yet was very eye opening
at the same time. Father has impacted so many different people in a variety of ways for so many
years and will surely be missed. "To me, Father Ralph embodies Chaminade. It helps that he's
known basically my whole family, so I feel like I have a special connection to him personally,
but he truly has impacted me in my time at Chaminade," Senior Ted Sudekum said. "From his
faith, to his support for the football team. He has made Chaminade a better place for me."
Father's endless support for the students inside the classroom, spiritually, and in extra circulars is
so powerful and never goes unnoticed by students. Senior Jack Carrow explained his favorite
memory of Father by saying, "my favorite memory was seeing Father Ralph photograph all of
our soccer games, no matter the weather he was there and he even came to road games which
was cool to see him cheer us on and support the team ." It was the continuous acts of kindness
and small deeds which Father did that influenced all the staff as student body. "Making
conversation when I stop by his room for candy, earning what it means to be a Marianist," Senior
Cole Verhulst said.
While Father has been the epitome of the school's model, "Esto Vir" and touched so many
people, Dr. Todd Guidry will most definitely do the same. Guidry's experience and impact at
Chaminade is felt daily. "I think Guidry is the best person to replace Father Ralph," Explained
Jack Carrow, who attended Chaminade for middle school. "He has done a great job of leading
the middle school and will be able to transition smoothly into his new role." Chaminade has
many students who started in middle school and gone onto high school, and for that reason
Guidry will feel right at home and have no reason to be uncomfortable.
When asked if Dr. Guidry will be able to take over and have the positive effect Father Ralph had,
the three seniors answered without hesitation, "yes". Ted Sudekum expanded on that saying, "I
do think Dr. Guidry will be able to take over and fit the role of president extremely well."
Sudekum continued, " It will be weird to me to not see Father Ralph as president because it's the
first time in Chaminade history that a non-lay person will hold that office, but I think Dr. Guidry
will do just fine. I think Dr. Guidry's has had a positive impact on the school thus far and will
continue to do so."