The Virtual Red Army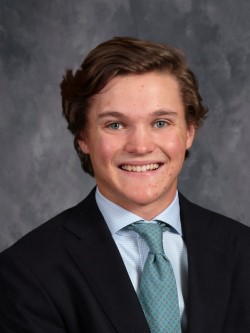 St. Louis County Executive, Sam Page, banned fans other than parents from high school sporting events amid the pandemic in St. Louis county. In fact, there was an uncertainty at one point in time that high school sports in St. Louis county would even be played. While Page is acting due to the circumstances of the world pandemic COVID-19, this is much more impactful on students at Chaminade than people know.
High school sports are more than just the athletes, it's the environment of games and the bonds formed, and experiences shared at games. At Chaminade sporting events such as football, basketball, soccer, hockey, etc. are the highlight of student's weekends and some of the best experiences that students share. "More than anything, I think we collectively missed out on the privilege of leading the red army as a senior class," Senior Adam Cunningham said. "This is something I personally had been looking forward to. Nonetheless, the red army is one of those things that makes Chaminade so special, and we were unable to experience that our senior year."
This is very common response from seniors when asked about what the lose of the Red Army means to them. The connection formed between underclassmen and upperclassmen is something that is greatly missed as well as the privilege for seniors to lead the Red Army. "What I have missed most was when I was little I always would attend high school events and seeing all the kids in the stand supporting their friends in your community is what I dreamed of as a little kid," Senior Carson Glynn said. "So, it hurts being a senior not being able to lead the student section."
COVID-19 has been a tragedy in the United States with over 27 million cases and 465 thousand deaths, yet for high school students it something that is not as feared. The death rate from COVID by high school students is under 1% and should not limit the way that high school students should live life. After all, they are in school together every single day at Chaminade, following guidelines. Jimmy Grumich, a senior house captain in the Lamourous house was very adamant when asked about if students should be able to attend high school sporting events. Jimmy said, "I definitely believe students should be able to attend in some manner. I understand that it is difficult to implement but it is such an integral part of the Chaminade experience that students are missing out on. By allowing students back at games in some way, it will help rebuilt the family spirit that is struggling due to social distancing." When asking the four seniors about if they believe that student should be allowed to attend sports game in a mannerly fashion following guidelines, they all responded "yes."
It seems ridiculous that we can be at school inside, with masks on, nonsocial distanced in classrooms but unable to follow mask and social distancing guidelines outside to support our Chaminade brothers in sports events. Senior Adam Cunningham posed a great question, "If we can sit in a crowded classroom together, why cannot we attend games in a socially distant and masked manner?" This seems to be the theme of the pandemic for high schools' students, less fear but more questioning of decisions from political figures. "If we can be in school, why can't we be at games?" Senior Peter Helming of the soccer team asked. He elaborated by saying, "I think it took a lot out of the fun for soccer this year. One of the most fun games of the year was against Fort Zumwalt South, one of two games we could have fans."
Another major issue with no fans at the games, is the lack of engagement from students and faculty with the teams. Sporting events at Chaminade is what brings people together and is an entire student body and faculty coming together to cheer and bond together. How are we supposed to have that sense of family spirit if there is no way for come to us together outside of school? The lack of engagement is noticeable and every single one of the seniors I interviewed all touched on it. "I have stayed engaged because I love sports. But I feel other people around the community maybe not so much," House Captain Carson Glynn said. "We need the red army back!"
There has been much bad talked about from the class of 2021, but really it is time for everyone to come together again. The effect that COVID-19 has had on seniors is incredibly slim and everyone is ready to yet again be united. No one in the senior class cares whether this is distanced or in a mask because we are willing to do anything to come together yet again at sporting events. The word "virtual" is a dreaded word now in the eyes of the class of 2021 at Chaminade and the "virtual red army" can go on no longer.
Right now, in time, the basketball team is 14-1 and in the midst of a state championship run, and all students can do is enjoy from their laptop on their living room couch. "The thing I've missed most about the red army is not being able to go to basketball games," Jimmy Grumich stated. None of this is to say that anyone should take the pandemic lightly. But, for the class of 2021, the thought of a sense of "normalcy" should be more inviting and less intimidating for political figures.