Fr. Ralph: Words of Remembrance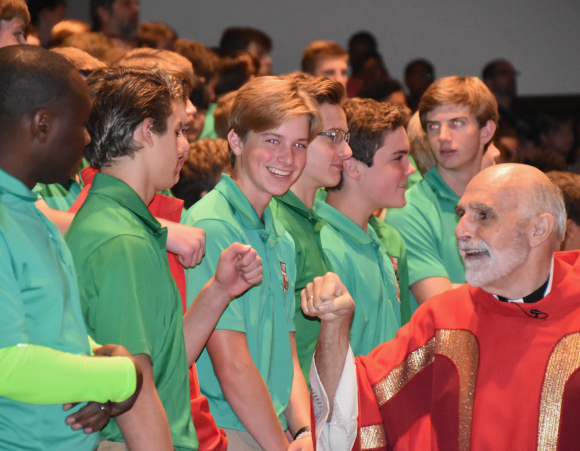 The challenge of honoring Fr. Ralph Siefert S.M., the president of Chaminade College Preparatory School for better than three decades, was met with flying colors at his funeral mass on Friday September 3, 2021. His premature death from Covid-19 was a shock to the entire school community. After the initial shock, accolades began pouring in from students, alumni, parents both past and present, board members throughout Fr. Ralph's tenure, and anyone whose life was touched by his. Personal stories included moments both small and large, weddings, baptisms, funerals, small conversations in the cafeteria, shared experiences on retreat, a brief encounter while stopping by his office for a piece of candy. A common theme quickly emerges: Fr. Ralph embodied the school motto Esto Vir. His interests, actions, and enthusiasm were focused on the people of Chaminade. Chaminade became a better place because of his guidance. His was the steady hand on the tiller guiding the school through difficult and calm waters. His was the face of Chaminade, though he often hid it behind his camera in order to push others to the forefront through his photographic skills. His was the calm, gentle voice that provided pastoral care to the generations of young men that passed through the hallowed halls of Chaminade.
The mass of Christian Burial was held at the Cathedral Basilica and was officiated by Fr. Oscar Vasquez, Provincial of the Marianists. The mass was concelebrated by several of Fr. Ralph's brother Marianist priests and former students who entered religious life. All ten house captains served as pall bearers. The final blessing was given by Archbishop Mitchell Rozanski. Not only was the Basilica filled with generations of students and parents whose lives Fr. Ralph touched, the event was live-streamed to accommodate those unable to attend.
Particularly touching were the words of remembrance. One reflection was given by Fr. Ralph's friend of many decades, Brother Ed Violett. The other was delivered by Mr. Frank Bennett. What follows are Mr. Bennett's words of remembrance:
Good afternoon everyone. My name is Frank Bennett. I graduated from Chaminade in 2001. I am a math teacher and the head basketball coach at Chaminade.  I would like to share some remarks about Father Ralph.
Thursday, December 19th, 2019. Father Ralph traveled with the Chaminade basketball team to Los Angeles to participate in a basketball tournament. We picked up our luggage and headed to Hertz to get our rental cars. Then, Father Ralph said "Frank, I am going to ride in your car while in Los Angeles." "No problem at all!" On the outside, I looked calm, cool, and collected…inside was a different story. Some of the thoughts running through my mind included:
"What if I get in an accident with Father Ralph in the car?"
"What if I forget to pick up Father Ralph?"
"The kids better be on their best behavior!"
A few minutes later, he and all of our players were playing music as loud as the speakers could handle. Father Ralph was nodding his head to the beat of the music while the players were reciting the lyrics and dancing in their seats. Literally, the car was rocking. Meanwhile I was thinking "hands at 10 and 2, Frank. Focus. Do not get in an accident with Father Ralph."
One key takeaway from that trip and my many other interactions with Father Ralph was that he understood the value and importance of genuine relationships. Principally, Father Ralph used relationships to influence people towards Christ. This was his life's mission. What was noteworthy is he used many different opportunities to accomplish this mission. There were masses, weddings, baptisms, and the graduation of almost 4,500 Chaminade men. On a smaller scale, there were hallway and cafeteria conversations, an office door that was always open (with candy of course for the students), and the infamous shoulder punch. Personally, it was our conversations at the end of our bench before basketball games.  All of these opportunities funneled down to allowing Father Ralph to establish a connection with people, a connection that he would use to influence people toward Christ. Again, this was his life's mission.
Is there any greater calling than pointing people towards Christ? I don't believe so. It is what we as Christians are called to do during our short time here. Father Ralph understood this and did this remarkably well and left this earthly word having provided us with an amazing example of how to do the same. In doing so, moving forward will not be easy. There will be sadness and sorrow because Father Ralph has finished his race. However, there will also be an opportunity for us to honor him and continue his mission of bringing Christ to the world. With a world that desperately needs it, bringing Christ to others may have been Father Ralph's mission, but shouldn't it be ours as well? ESTO VIR.