A Modest Pro(m)posal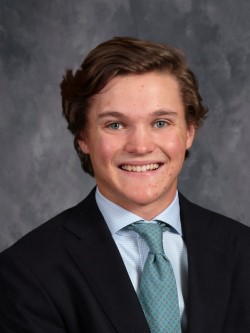 The word around campus is that there will be no Prom from the 2020- 2021 school year amid the pandemic and liability that would fall on the school. This means that the class of 2021 will never have a Prom in their time at Chaminade? As vaccinations continue to roll out, cases continue to drop, and people continue to have more knowledge on the virus, I believe that there should be many safe and effective ways to approach a Prom at Chaminade.
High school Prom is more than just a school sponsored event for student, but it's an experience and night that students will never forget and will always remember. Prom is more than just one night but it's the lead up that is so special. The planning, asking a date, and the pre and after party play such a major role in how special Prom is for high school students. "More than anything. I think we collectively would miss out on an experience and night that will never get back and one that all past graduates have had the opportunity to take part in," Senior Adam Cunningham said. "It is something that I have personally been looking forward to. I understand the issues that pandemic has had on planning a Prom, but it's such a special thing at Chaminade and would be a real bummer if we were unable to experience it one time."
There is a very common response from seniors when asked about what a Prom would mean to them. The connection between different groups of students and between so many different schools is something that would be greatly missed. If there is no Prom that would mean that the class of 2021 would never have been able to take part in a Chaminade Prom unlike every other class that has gone through Chaminade. "What I would truly miss most about Prom would be not being able to take part in the experience with all of my Chaminade Brothers," senior Jack Weber said. "I went to a Villa Prom just a few days ago and it was such an awesome time, so I couldn't imagine not being able to take part in one at our school."
The COVID -19 pandemic is something that should not be take lightly, but with more and more vaccines being given out every single day we are heading in the right direction and there seems to be a light at the end of the tunnel. The death rate for high schools' students from COVID- 19 is under 1% and should not limit and completely restrain high school students from the education and schooling experience. Students go to school together in person every day at Chaminade following social distancing and wearing masks, so why would students not be able to follow the same guidelines and have a Prom?
Patrick Divis, a senior house captain in the O' Donnell house had very strong opinion and was very strong when asked about Prom. Divis said, "We have been talking about a Prom in our captain meetings for months and there seems to be no progress being made." He continued, "we have and will continue to push for it because it is something that all of us captains want, and we know all of the students are pushing for it." I asked three more seniors the same question about if they believe Prom should happen in a safe manner and following guidelines and they all responded with a confident "yes".
It is very confusing for us as students that we come to school every day which is inside, with masks on, and not socially distant in classrooms but are unable to partake in a Prom outside following the same guidelines. With many of the teachers being vaccinated, I believe that teachers are beginning to feel safer around the students and would be open to making this happen for the seniors. "Even if the Prom is only seniors, it only seems right that we would be able to make this happen," Divis said.
There have been countless things that the class of 2021 has missed out on due to the pandemic, but I believe that it is time for students to come together in a "normal" fashion again. COVID-19 has had a very slim effect on the community at Chaminade and it seems that students are ready to be united again and make more memories before their time is over, especially seniors. Seniors would abide by COVID protocols in a heartbeat for Prom to happen. This article was not written in any fashion to make light of the COVID-19 pandemic. But, for the class of 2021, Prom is heading towards a sense of "normalcy" and should happen in a safe fashion.