Top 5 Championships: #3, the Villanova Wildcats
Hang on for a minute...we're trying to find some more stories you might like.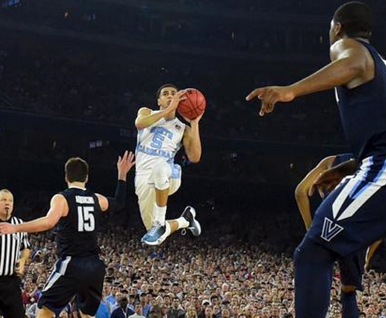 Villanova vs. UNC is my number three. Both of these teams had been outstanding throughout the entire year and neither let any Cinderella stories beat them in March, and they met in the championship. If you did not have a chance to order some pizza, perch yourself on your couch, and watch this entire game, I am sorry. Because this was probably the best basketball game I ever watched. No team could get the edge. It was back and forth the entire game. At the end of the first half, The Tar Heels had a five point lead. With one minute to play North Carolina pulled within one. Everybody could already tell that the ending of this game was going to be an amazing one. With 5 seconds to play and Villanova up by 3, Marcus Paige, got the ball with an open chance for a deep three. Ryan Arcidiacono started closing the gap when Paige jumped to shoot. In mid-air, Paige twisted his torso to get more open and sunk a three pointer to tie up the game, fill the Tar Heels with the hope of overtime. However, with 4.7 seconds to play, Ryan Arcidiacono got the ball and rushed it up the court. At the center line, he made a break to his right and gave the ball to Kris Jenkins, leaving all of the Wildcats title hopes on Kris' shoulders. With 1.1 seconds Jenkins started his jump, with 0.4 second the ball was out of his hands. The crowd held their breath. The ball was on a perfect arc seemingly on path for three points and a Villanova victory. The buzzer went off with the ball half way to the basket. At that point, the ball was moving in slow-motion. The orange sphere landed perfectly inside the rim, and the net made that amazing sound that everybody loves. Villanova had won the game. The streamers and confetti fell down onto the wood while Kris Jenkins stood with his arms outstretched, soaking in the crowd. I ranked this game at number three because of how good of a game it was. There was never a point where one team was defiantly going to win and never a slow moment in the game. Also, Villanova basketball had never won a championship, and UNC has won their fair share. After that incredible game it is fair to say that Villanova was the best team in college basketball.