College Hockey Preview
After a five-month break from the widely talented and intensely fun realm of NCAA Division 1 college hockey, we are going to break down which teams have the best chance of stopping Denver University in their pursuit of back-to-back National Championships. Denver, who ousted Minnesota-Duluth by a score of 3 to 2 in the 2017 National Championship game, is atop the College Hockey News "Early Top Ten" for this upcoming year. Led by returners Troy Terry and Henry Borgstrom, who had 45 and 43 points last season, respectively, the Pioneers hope to capture their 9th title in program history.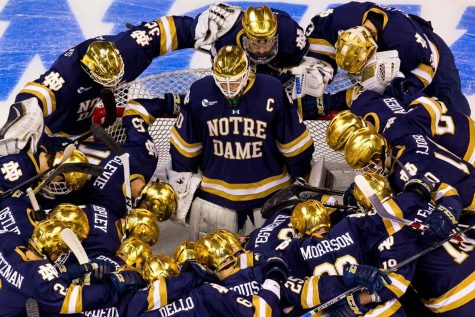 Following closely behind Denver in College Hockey News rankings, Notre Dame (2) and Boston University (4) are heavy favorites to make a solid run this season. Although the Fighting Irish lost leading scorer and Boston Bruins 5th-round draft pick to the Providence Bruins of the American Hockey League (AHL), they are still strong among the players they had last year. In retrospect, Bjork and Cal Petersen, their solid goaltender last year, are the only two players that should be leaving.
Boston University, on the other hand, lost multiple star players to professional contracts: Clayton Keller, who made his NHL debut for the Arizona Coyotes in late March, and Charlie McAvoy, who made his debut around then with the Boston Bruins, were key components of last year's team. Although, there is a lot of hope in the Terriers young-guns this season, with Shane Bowers, a product of the Waterloo Blackhawks of the United States Hockey League and Brady Tkachuk, a potential top-five draft pick in 2018.
The list goes as follows: (1) Denver; (2) Notre Dame; (3) Providence; (4) Boston University; (5) Penn State; (6) UMass – Lowell; (7) Wisconsin; (8) Minnesota; (9) St. Cloud State; (10) Quinnipiac. We look forward to another action-packed season of college hockey and can't wait to see who, if anyone dethrones the Pioneers in pursuing a second straight title.