How to Catch and Clean Winter Crappie and Bluegills
Wintertime fishing can be a struggle. We have all been skunked in the winter. But, there are some simple tips to catch loads of winter panfish.
Panfish in winter are both fun and easy to catch. Unlike summertime, the bluegills are not in the shallows, but deep. These bluegills are very challenging to catch on traditional baits and lures like hotdogs, worms, and spinners. In the wintertime, I have the most luck fishing with small lures a few feet off the bottom.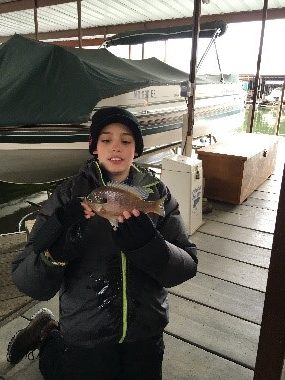 My favorite lure is a 1/64-ounce jig with a small trout magnet plastic.  If I want extra scent, I tip my jig with a PowerBait Crappie nibble. In wintertime I like to use a smaller and slower bait in the winter than I do any other time of the year. This is because fish do not have enough energy to chase a fast baitfish. I fish these lures about 2-5 feet off the bottom. I slowly shake my rod tip and then deadstick my rod. I repeat this process for a few minutes before I change depths or locations. When fish are suspended closer to the surface, I drift my lure with a twitch and pause retrieve.
In winter, fish are very particular about location.  I personally fish off the docks in about 15-25 feet of water. I fish in dark areas of boat wells over sunken trees and logs. The sunken trees and logs hold both bluegills and crappie. These trees provide both protection from predators and hiding places for baitfish. In dark areas, I have noticed fishing is better and fish suspend closer to the surface. Winter fish can be finnicky, and you need proper tackle to handle light lures. I like to use a very sensitive rod with an ultralight reel. I like my reel spooled with 2 pound line for lures under 1/32-ounce. I use 4 pound line for lures over 1/32-ounce.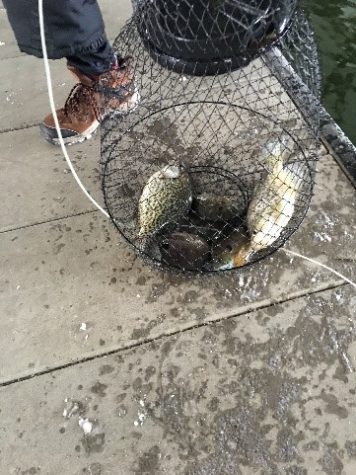 In winter, fish are not as aggressive. This means that they do not bite as hard. To detect very soft bites, watch for any sharp movements in the line between the reel and the first guide.  This tip is very important if you do not have a sensitive rod. There are multiple exceptions to the gear that I am using. An exception to the lures that I am using are small trout jigs and plastics less than 1.5 inches. Panfish will also take a 1.5-2-inch plastic drop-shotted with a 1/8-ounce lead. Alternative locations could be steep drop-offs or transitions between rock and weeds in deep water.  Rods and reels can be substituted with anything sufficient for light line and bite detection. If my reel is too large, 6 pound fluorocarbon would work.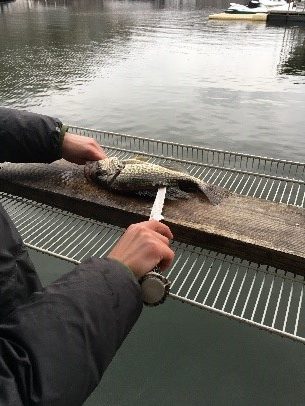 The best part of wintertime panfish is cooking and eating them. Crappie are among the best tasting freshwater fish. If you have never tried bluegill, they taste like crappie, but they are firmer. I like to fillet my fish with a stiff steel blade. The stiff blade helps you keep control over your fillet. When I am done filleting, I brine my meat in salt water overnight in the refrigerator. The next day, I coat my fish in egg, flour, and Andy's Cajun breading. I pan-fry my fish in peanut oil for about 2-3 minutes a side or until crust is golden-brown and meat flakes easily. Winter panfish are fun to catch and great to cook and eat.