CCP Father's Club Brings Christmas to Campus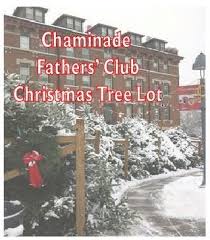 As the Christmas season approaches many families look for pop-up locations around St. Louis to purchase their live trees for decorating.  Others look for convenient locations so they don't have to haul a tree too many miles to their homes, while some families look for the lots that bring the most value as trees are not cheap.  Many families look for the best charitable organization to see their dollars go toward a cause they believe in.
Here at Chaminade, we have long ago created a way to achieve all of those things at once.  The CCP Father's Club Tree Lot seeks to accomplish all three while also adding a touch of nostalgia to the purchase.
The Chaminade Father's Club has been selling trees on campus for many years. It is run exclusively by the Father's Club and relies on volunteers to ensure smooth operations.  Volunteering isn't easy, either.  Many of the volunteers spend hours standing in the area in front of our Immaculate Conception Chapel, huddled around a small fire pit, providing personalized Christmas Tree sales to the hundreds of customers.  Students also volunteer, and can receive service hours for donating their time.
The Father's Club has been doing this for many years, and the operation has become like clock-work.  Trees come from as far away as North Carolina or as close as across the river in Illinois. Proceeds typically range from $15,000 to $20,000 and 100% goes to charitable elements of the school, including scholarships and other outreach programs.
Trees range in price from $50 to $150, and they do offer mini trees as well as accessories such as centerpieces and wreaths.
The lot opens the day after Thanksgiving and runs until December 19th.  Hours are Monday through Friday 5-8pm and Saturday and Sunday, 10am to 7pm. Picking a Christmas tree is a fun family event so bundle up, bring the kids and don't forget your camera!