The Library with a Shoe in its Ceiling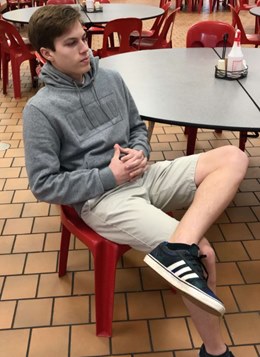 CHAMINADE LIBRARY- Last Tuesday, Chaminade senior Kevin Vatterott accidentally kicked his shoe into the ceiling. The shoe belonged to his left foot, and the ceiling swallowed it up. He was unable to get it back and walked around with one shoe for the rest of the day. What was once a Nike shoe will never be used as a shoe again; instead, it will be eating up dust from the ceiling, maybe outliving us all. We might never see it again, and it could sit there for years. It will be one of those things a future student or staff member accidentally comes across.
To paint a vivid picture in your brain, it is just a normal day in the library. If you're a student at Chaminade, you know exactly what that may look like. If you aren't a student, you might need an explanation—it's unique to say the least. Students are quietly doing homework on their laptops. Most of their assignments are due the next block, so they're eyes are glued to their screens. Mr. Jim Zolnowski, librarian legend, is walking around the room, probably looking for students to mess with. Wearing his white shirt and his classic suspenders, "HEY HEY," is all he says. Mr. Murphy, the Ac Lab proctor, is taking a peek at the newspaper, and all of the dormers are passed out in the comfy chairs.
All of the sudden you look up for a split second. Maybe you are checking the time, or looking outside through the windows, but you see a shoe flying into the ceiling. How in the world does that happen? You're going to have to ask Kevin Vatterott.
"To be honest I have zero clue how it happened," said Kevin Vatterott, former owner of the shoe. "One second it was on my foot and the next it was in the air heading for the ceiling." All work being done would come to a halt when he attempted to kick a ball and completely whiffed.
Nobody could quite figure out what was going on. Frazier Ott, a 6'8 Senior, and Varsity basketball player, tried to get it down from the ceiling, but failed and even pushed it further back. His plan was to jump up and hope to snag it with the tips of his fingers. Each time, instead of snagging it, he continued to tip it inches further back each time.  Soon, the teachers told him to stop trying.  The shoe belonged to the ceiling now.
As the days go by, Kevin has still not been able to fetch his shoe back, and he even bought new ones. As you can see in the picture, Kevin is sporting some brand-new Adidas Samba's. They are significantly different from his Nike's, and he has an interesting opinion on the new shoes.
"I like them a lot better than my old ones," he says, "they fit tighter on my feet, and I feel like if I tried to kick them into the ceiling, I wouldn't be able to."