Chaminade Marches Past Webster Groves for District Championship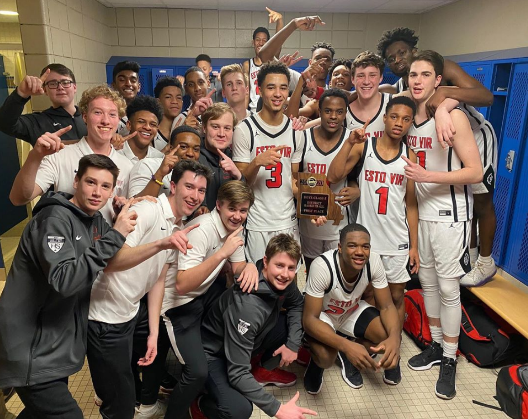 It was only fitting that this Chaminade team would have to move past the team that has been the thorn in their side over the past two years. In March 2018, Webster Groves beat CCP in the state championship; then last year, in the opening game of the district tournament, Webster Groves beat Chaminade in an action-packed game.
This time, the Red Devils were determined to not get sent home early. In a low scoring affair, CCP won 45-35 and left the SLUH campus as district champions.
With Esto Vir written across his chest, sophomore Tarris Reed Jr. attacked the basket like a man with purpose. The 6'8 center had a game-high 22 points, and generally had his way against Webster Groves' postman Luke Maupin. Reed got the first basket of the game by finishing at the rim with a sweet move in the paint. This was a preview of what was to come. As always, Reed used a combination of tight footwork and powerful post moves to score the basketball. When the final three seconds of the first quarter winded down, Reed stood at the top center of the three-point land, he received the pass, and knocked down a buzzer-beating shot to send the Red Army into pandemonium. It wasn't just his 3-pointer that got the fans on their feet; it was also his multiple dunks, highlighted by his one-handed slam coming off of a drop step that takes the cake as his most impressive of the night.
Reed's sophomore counterpart, Damien Mayo, was the second leading scorer on the night; however, his presence was more felt on the defensive end of the floor, as he had the task of covering Webster's sophomore guard and elite three point shooter, Matt Enright. All night, the Statesmen ran sets to try and get Enright a good shot off of a screen, and Mayo did his best to deny Enright that shot. Mayo was able to seal off Enright's left side, the way the sharpshooter wanted to drive to, and in the first half, the Webster Sophomore was held to one shot attempt, which didn't fall, and had two turnovers. This less than ideal first half stat line is a testament to how hard Mayo worked to defend him. Offensively, Mayo finished with an efficient 10 points, going 2-2 from the free throw line.
The other 13 points came off a Luke Kasubke three, a Matteus Case finish at the rim, Harrison Vickers hard fought 6 points, and a beautiful mid-range jump shot from Jaden Winfield. While the Red Devils didn't play in transition, they played a smart game, where they fought for every point.
Chaminade won their fifth district championship in six years Friday Night. They will move on to face a Marquette team who beat Eureka Thursday night. The two teams will have the prime-time game, 7:45, at Lindenwood on Wednesday, and it will be Chaminade first time back to Lindenwood's gym since March 2018 where they beat Hazelwood Central, 77-74 in the quarter finals that year. This year's team has been preparing for this run all year, as they've had their eyes set on getting to the sectional and quarterfinal rounds at Lindenwood, and to eventually move on to Missouri State in beautiful Springfield Missouri at the Final Four. The Chaminade Red Devils are officially on the road to state.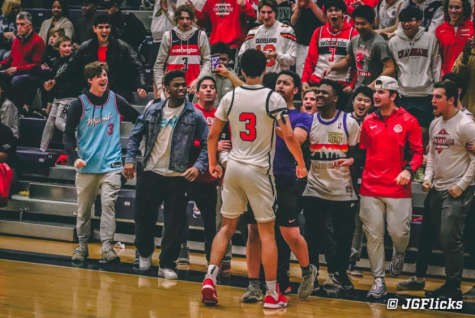 Next Game: Wednesday March 11th 7:45 at Lindenwood University vs Marquette High School.