Reed Catches Fire as CCP Makes a Statement in Win over Ritter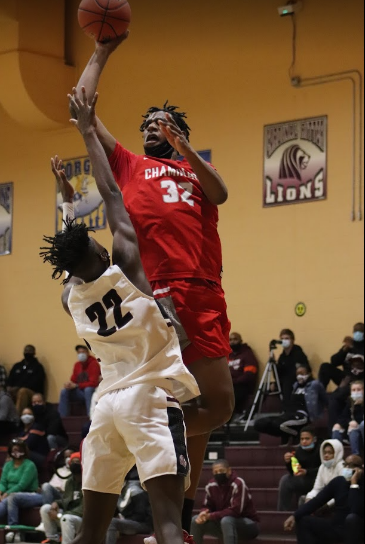 Owen Boyette , Sports Editor, Basketball Beat-Writer
December 28, 2020
During the halftime break of Chaminade's Wednesday night game against Cardinal Ritter, Coach Bennett reiterated the same message he had been telling his players all week, "If you want to be the best team in the area, you gotta go through them." His instructions to the team were straightforward: secure every rebound and take better care of the basketball. Tarris Reed evidently took those key points to heart as the junior big man finished the game with 26 points and 14 rebounds, and Chaminade won 71 to 53. It wasn't all smooth sailing for the Red Devils though, in fact the first three quarters were filled with tight back-and-fourth basketball.
Off the opening tip, Cardinal Ritter's post player Robert Lewis won possession of the ball and flipped it back to the point guard, Illyas Harris, who rocketed a pass to Luther Burden, a five star receiver headed to Oklahoma to play football, which resulted in a reverse layup to give Ritter their first lead of the night. After defensive stops from both teams, Tarris Reed collected an offensive rebound and got his put back shot to fall tying the game at 2-2. Chaminade then forced a Ritter turnover, Damien Mayo drove down the lane, passed the ball out to Reed, who put his shoulder down and forced his way inside for a layup.
Luther Burden then had two straight buckets followed by a Braxton Slacker transition layup to give Cardinal Ritter a four-point lead. CCP responded with a Tarris Reed fade way jumper, but Robert Lewis matched it with a score inside the paint. Coach Bennett called his first timeout with 3:50 left in the 1st quarter and the score sitting at 10-6 in favor of Cardinal Ritter.
Out of the timeout, both teams traded baskets, Mayo hit a three cutting the lead to one, and Nate Straughter scored a layup in the fast break to put Chaminade in front by a point. A Mayo layup, three buckets by Robert Lewis, and an offensive rebound followed by a reverse layup by Mark Jackson closed the 1st quarter out with CCP down 18-17.
Cardinal Ritter's Mario Fleming opened the quarter scoring five straight points. The senior guard hit a layup coming off an offensive rebound and then knocked down a three pointer right in front of Chaminade's bench. Nate Straughter proceeded to hit a contested layup right at the basket and on the next possession knocked down one of two free throws. Robert Lewis tapped in a missed shot that had rolled off the rim, but on the following two possessions Damien Mayo responded with a soft one dribble jumper and then utilized a Tarris Reed screen to get open and pull up from behind the arc to tie the game at 25-25.
Luther Burden scored Cardinal Ritter's last four points of the 1st half. For Chaminade, Walt Straugher used a backdoor cut to score right at the rim, and Reed converted an and-one floater as well as a fade way jumper, putting Chaminade in front 32-29 going into the halftime break.
The basket-for-basket nature of the initial two quarters carried into the first four minutes of the second half as Tarris Reed's up and under basket as well as Filip Sinobad's switch hand layup were both matched by scores from Mario Fleming and Robert Lewis. It was a Tarris Reed thundering one-hand dunk coming off a ferocious drive to the rim where Reed was able to beat Lewis off the dribble that caused a Cardinal Ritter timeout with 3:45 left in the 3rd.
Out of the timeout, Robert Lewis hit a layup off the inbounds pass, but Damien Mayo and Nate Straughter quickly responded. Mayo scored a layup over three defenders and Straughter finished at the rim for a basket off a steal. Robert Lewis said checkmate however, as the big man dribbled around Filip Sinobad and slammed down a two-handed dunk which sent the Cardinal Ritter faithful to their feet. Coach Bennett called timeout at 2:25 left in the 3rd to kill a possible momentum shift.
A steal by Ritter on Chaminade's ensuing possession lead to an ally-oop dunk by Braxton Slacker coming from a Robert Lewis pass. Tarris Reed then proceeded to turn the ball over and Damien Mayo fouled Slacker sending the forward to the free throw line where he made one of two shots. A BJ Ward assist to Mayo resulted in a three-point shot, and one final free throw by Slacker ended the 3rd quarter with Chaminade up 45-41.
Fortunately for Chaminade, that Braxton Slacker free throw marked the beginning of a 18-3 run by CCP. To start the final quarter, Nilavan Daniels knocked down an and-one floater, Nate Straughter sunk a three along the Chaminade sideline, Tarris Reed buried a fadeaway jumper, Reed went 2 for 2 at the free throw line, and then on a fast break, Nate Straughter shoveled a pass around a defender straight to the hands of Reed who slammed the ball down on a monster two-handed dunk. Cardinal Ritter looked up and they were down 57-41 on the scoreboard.
Tarris Reed's competitive nature must have gotten the best of him, as he mouthed off to Robert Lewis, and this resulted in a technical foul sending Mario Fleming to the free throw line. From there, Chaminade's big three of Reed, Mayo, and Straughter just kept making plays to keep the points coming. Mayo and Reed both had pull up jumpers. Nate Straughter made a beautiful euro step layup, and the final outcome was clear: Chaminade outplayed Cardinal Ritter in dominating fashion to win 71-53.
Once the game was complete, Coach Bennett was proud of his team, telling them, "I don't care what the situation is, we scrap!" Reed finished with 26 points and 14 rebounds. Mayo finished with 19 points. Nate Straughter Finished with 16 points.
Overall Record: 4-0
MCC Record: 1-0
Next Game: Monday December 28th at home against Vashon at 6:30.