Zero-Hour Classes: The Hidden Gem of Chaminade's Music Department
Everyone knows that Chaminade has a successful band department, and the large majority of students are aware that there's a wind ensemble and a jazz band. What many students don't know is that there exists a special type of music class outside of the regular ones, dubbed zero-hour classes, so called because they are scheduled outside of the regular 1 to 8 block rotation. Even fewer students know that if one were to take two zero-hour classes, they can earn a half-credit of fine arts added to their report cards and transcripts, often at a 100% grade. This credit counts as a full class as far as grades are concerned, and the 100% counts towards one's GPA, effectively boosting it. So, you might ask, why haven't more guys taken advantage of this extremely beneficial program? Well, for one, every zero-hour group that gives credit requires you to play an instrument (except Men's Chorus), and you need to take two zero-hour classes for the half-credit of fine arts to be counted. In other words, you need to be able to play a desired instrument well, as well as audition and be placed in a zero-hour group. This excludes a significant chunk of the student populous from eligibility automatically. Furthermore, these shortened classes are a time commitment that many students aren't willing to undertake. Each class meets at least twice a week, most often with both an AM and PM time, going from 7:10 AM to 7:45, and from 3:10 PM to 3:45 (note the PM time is flexible for sports practices). The available groups for 2021-22 are as follows: Jazz Ensemble, Jazz Combo II, CMG, and Men's Chorus.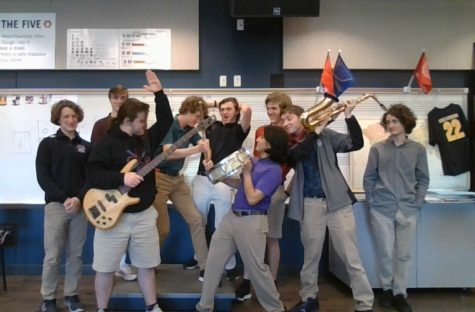 I personally am in the Contemporary Music Group (or CMG) and the Men's Chorus. It may be hard to picture what exactly a "Contemporary Music Group" is, but essentially, it's like your stereotypical garage cover band, but probably a little tamer. CMG is great because (#1) Mr. Hopwood – the instructor – is extremely approachable and helpful, and will even take requests for potential song choices to rehearse, and (#2) all of the songs we do are fairly well-known classic rock and/or pop songs, so it's fun to play songs that you've heard before. Men's Chorus is great for the exact same reasons. Furthermore, music is great for building and growing friendships. I've gotten to know some fantastic people through the program, working alongside such outstanding musicians as Akash Nandakumar '21, Quin Rizer '21, Graham Toombs '23, Will Creighton '23, and Angelo Santos '22. Not to mention the opportunity I've had to learn and enjoy music under the tutelage of Mr. Matt Hopwood and Mr. Tyler Jewell (whom Hopwood replaced) over the years; I was blessed to have stumbled into the program four years ago. With these classes, you have to opportunity to learn to play to the best of your ability, meet like-minded peers, and even get a little boost to the grade book. In short, the zero-hour classes are extremely unique and rewarding experiences that go underutilized and underappreciated.