The Chaminade Athletic Connection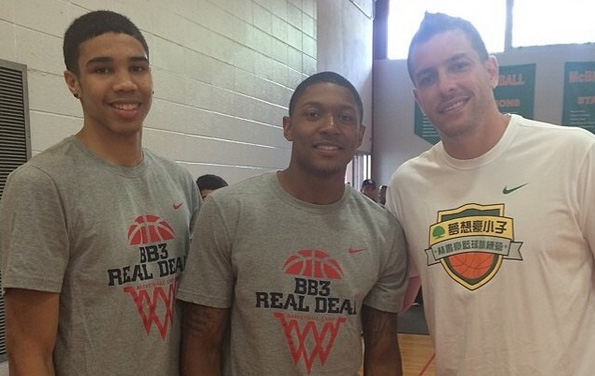 Chaminade athletics are second to none in the area of St. Louis, as we can see from the athletes that we have graduated in recent history. From Brad Davis, Tim Collico, David Lee, and Brad Beal, Chaminade has developed a reputation for generating professional-level athletes.
For me, Brad and David were the two who had the most influence because of the connection we have through basketball. David Lee graduated in 2001. He was a McDonald's All-American in high school, went on to play 4 years of collegiate basketball at the University of Florida, and soon after got drafted into the NBA, where he eventually won an NBA World title this past summer.
Though I have learned quite a bit from watching David, Brad Beal has to be the biggest influence for me. I have known Brad since I was in elementary school, and for years now he has been a big brother, mentor and inspiration to me. I grew up watching him in high school, college, and now the NBA. I have always wanted nothing more than to be like him and hopefully follow in his footsteps. Bradley won a state championship in high school, was a McDonald's All- American, and a top 7 ranked national player. He, just like David Lee, attended the University of Florida, but for only 1 year. Afterwards he went on to the NBA where he now plays for the Washington Wizards.
All of this is very important, but I knew Brad way before he turned pro, and the effect he had on me back then has helped guide me to the person I am today. I began attending Chaminade my 7th grade year, and it was all because of Brad. I wanted to go to the same school as him, be like him, and most importantly, play like him. I remember days where after practice I would wait and rebound for him while he would get up tons of shots. That's when I realized how hard you need to work in order to achieve what you want.
That was where it all clicked in my mind—after watching Brad practice, seeing him in the hallways and driving home from school with him, I knew what it would really take. I took that into my own hands after my freshman year; every single day after practice of my sophomore year I would work on my shooting, skills, and conditioning. When I didn't feel like working out, I would see Brad's jersey retired in the gym and my mood would change instantly.
The influence on and off the court Brad had on me is enormous to this day. He has always encouraged me to do better and better. Brad said, "Don't try and be like me, you're better than me when I was that age and you will be better than me. I just want to see you make it." Words like that coming from someone you grew up trying to imitate their every move is one of the best things you could hear.
That's why Chaminade is a wonderful school: we are a family. We're lucky to know that there are Alumni that can give knowledge back to see younger generations excel in life. Now I want to inspire younger kids today. I love when I walk down the middle school hallway and kids scream my name and want high fives. I enjoy being around them because I was that exact same kid when Brad use to walk down the hall way. Any help I can be to younger kids I'm eager to do so because I know how much it can help and mean to them.