Senior Night — Class of 2020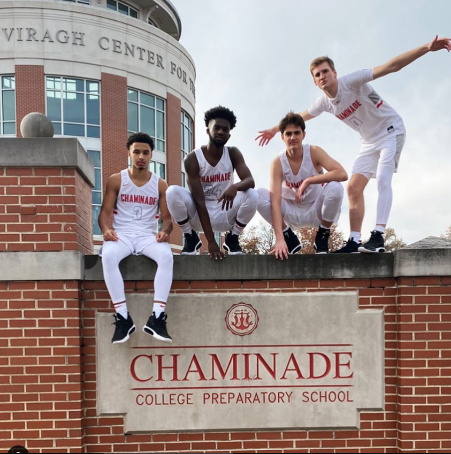 As Senior Night has come and gone and post-season play will begin next week, it seemed appropriate to take a step back and look at each player's Chaminade basketball career (so far). Of course, there is still the playoff run to come; however, senior night is the time before that when parents, teammates, coaches, and peers get to celebrate the hard work and dedication the players put in for the team.
Luke Kasubke, Forward
Committed to Kansas State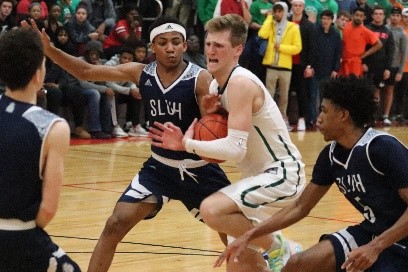 A four-year varsity player, Kasubke will surely be known for his three-point shooting and ability to attack the rim, but to Coach Bennett, he'll be remembered for something else, "He's easily one of the hardest workers I've ever been around." For Coach Bennett, someone who has seen David Lee, Brad Beal, and Jayson Tatum's work ethic firsthand, to say that about Kasubke speaks immensely of his commitment to getting better every day. The second thing that stands out to Coach is Kasubke's basketball mentality, "He's a winner. That's what he does… He works his tail off and he doesn't say much." Those two quotes truly hit the nail on the head, Kasubke has played all four years with an immense desire to win and an immense desire to be the best basketball player he can be.
Standout Game: vs Morgan Park at the 2018 Highland Shootout, Luke scored 27 points and won game MVP, in a 107-94 win.
Matteus Case
Undecided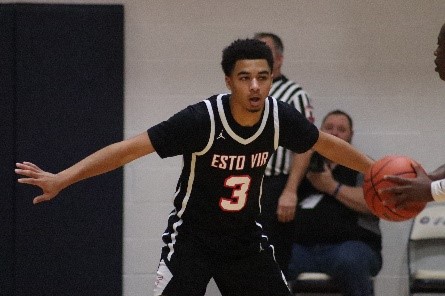 Versatility and Matteus Case go hand-in-hand. Over the last two seasons, Case has adapted and produced in multiple different roles on the team, "He's guarded a potential NBA player; we've put the ball in his hands a ton. He's played off the ball. We've ran ball screen sets for him… He's proved to be effective in many different situations." At no point did Case question his role, he just completed the task at an extremely high level. And if you didn't know he was from Canada, you would think he'd been playing Chaminade Basketball his whole life, "I didn't know anything about Tae…He touches down and in open gym you think, 'wow. This kid is really good.'… He fits that mold of the senior class where they care about winning… He's no exception. He only cares about winning." In his two years with the program, the shooting guard has demonstrated his explosive athleticism, his killer three-point shooting, his creative ability to finish at the rim, and his most impressive trait: versatility.
Frazier Ott
Committed to Lindenwood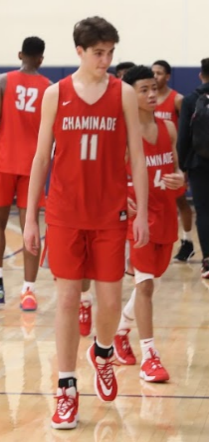 Frazier Ott has no forty point games or insane fast break dunks, but he does have a track record of setting picks, getting guys open, tenaciously rebounding the basketball, and as Coach describes, "you have a guy that doesn't mind doing the dirty work." He has embraced his role and excelled it too. Ott may be the hardest worker out there on the floor every game because, "He's a guy, that when you look at him, he can be rather unassuming, but he competes. He plays his butt off. He plays extremely hard." Frazier enjoys the parts of basketball that aren't glorious, that don't get you on highlight reels, and he chooses to focus on those aspects of the game, "Frazier is a guy that has improved every year he has been here… In my tenure here, he is the most improved player we've ever had. He went from 'C' team guy who is a little bit tall and lanky, and he has grown into a guy that can help us make a state run."
Harrison Vickers
Undecided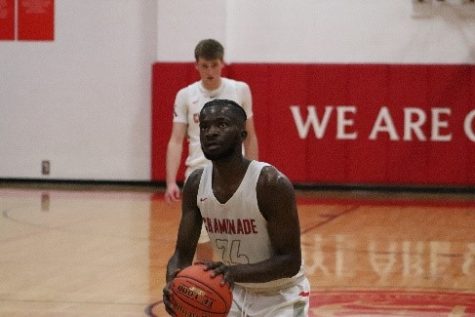 When most people talk about Harrison Vicker's time at Chaminade, they will probably bring up his forty point game against Parkway North this past year as his best night, but to Coach it was two years earlier against Hazelwood Central, in the Quarterfinals, where HV had his most impactful performance, "That was instrumental in us making the jump to get to the final four… In that game, he did whatever was asked for." He had 17 points that game and over 7 offensive rebounds. He played nitty-gritty basketball, and it was a huge reason Chaminade won that day.
What might be more impressive; however, is that the first thing Coach brought up when talking about HV, wasn't basketball at all, "Harrison is a high character guy. He does well academically. He is a great teammate." Vickers has been a staple of Chaminade Basketball, on and off the court, for three years. His impact will be missed.
————————————
When talking to Coach Bennett, you understand the pride he has in these four seniors:
"They're really good people. I would say exceptional people. They are guys who care about the team more than themselves… For those four guys, they are committed to each other and committed to winning… It's something we try to teach. It's a life lesson, if you go about your business in a selfish manner, its hard for you to fit in society. At some point that well is gonna run dry for you or its gonna run dry for those around you… But true success and true fulfillment comes from trying to do stuff for other people… At the end of the day, we hope to have guys who are going to be great husbands, great fathers, great mentors, etc. and you can't do that if you are going into these situations or these relationships all about yourself… I think these guys are prepared for that."